Canal Tour
The Canal Tours are probably the best and most beautiful way to see a lot of Copenhagen in an hour. 
Part of the tour goes through the area of Christianshavn where many people live on boats in the canals. Christianshavn is named after king Christian IV who expanded Copenhagen with this beautiful area in the early 1600's. It is one of the most beautiful, popular and expensive neighbourhoods in the city.
In the open harbour area you will pass the last Danish submarine that was retired in 2005. You will also see the modern opera house and get a beautiful view of the royal palace, Amalienborg, from the sea.
Finally, you will see the world famous little mermaid statue from the boat. The statue was made in 1913 by the artist Edvard Eriksen to commemorate the fairy tale by Hans Christian Andersen. It is very small. The Danes do not think that much of it. But internationally it has become a symbol of Copenhagen. There are always tourists taking pictures of it.
The statue has often been vandalised by people with political messages. She has been beheaded several times. She has been dressed in a burka as a protest against islamisation of Denmark and she has been vandalised with red paint as a protest against whale hunting.
How to get on a canal tour in Copenhagen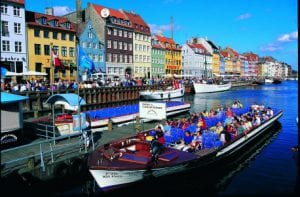 Hamlet Tours does not operate canal tours in Copenhagen and is not associated with any of the operators of the canal tours. The canal tour is included in our GRAND INNER CITY TOUR but if you just want to go on the canal tour without joining our city tour, here is our unbiased advice:
There are two main operators of the canal tours. Nettobådene costs 60 DKK (8 euros) per person and Stromma costs 80 DKK (10 euros) per person They are both reliable and trusted operators. Stromma has more departures.
The ticket booth for Stromma is right in the end of the harbour in Nyhavn. (In the end that is nearest to the city). It is very easy to find. The ticket booth for Nettobådene is on the right hand side of the harbour (as you look towards the water) two hundred meters from the bottom of the harbour.
Unless you are a large group, our recommendation is to simply show up and buy a ticket in Nyhavn. The boats depart every 20 minutes in the summer and the operators always make sure there are enough boats for all the visitors. Even in high season on a sunny day, you can almost always get on the next boat.
In the off-season, it is a good idea to check the departure times on the website of one of the operators. And if you have a very large group, we recommend to make a reservation in advance.
What if it is raining?
The canal tours still operate if the weather is bad. But you should ask if there is a roof top on the boat. It is not always the case. The operators usually hand out ponchos if you are in an open boat and it starts raining. But it is really not that much fun 🙂