The Viking Ship Museum in the town of Roskilde contains five original viking ships from the 11th century. There is also a boatyard and lots of rebuilt models of the old ships. It is a museum of shipbuilding and seafaring in the Viking era.
The end of the Viking era was tough and troubled. Roskilde was the capital of Denmark. To protect the town from attacks from the sea a series of blockades in the fjord (=bay) were made by sinking old ships.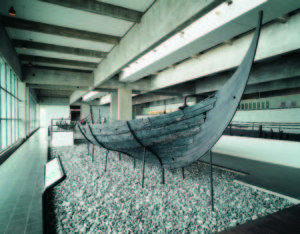 The five ships displayed in the Viking Ship Museum were sunk around the year 1070. They were originally built between 1024 and 1040. This has been established by studying the rings of the wood from the ships. It has also been established that the ships were built in Ireland, Norway and Denmark. This underlines the size of the Viking empire.
The largest of the five ships is a Viking war ship that could carry 60 warriors on the famous Viking raids were we conquered England, Paris, Normandy and many other regions and towns across Western Europe. The other ships were cargo and fishing ships.
The ships were raised from the seabed in 1962. The local fishermen had known about the ship wrecks for a long time before that. One additional ship actually got lost because the fishermen caught part of it in their nets and used it as fire wood during the second world war.
It is 36 kilometers from Copenhagen to the Viking Ship Museum. The easiest way to get there is to take a train from the central station in Copenhagen to the town of Roskilde and then walk to the museum. The train ride takes between 22 and 26 minutes and the walk is another 27 minutes. (1.8 kilometers). The timetable for the trains can be found here.
Another way to get there is to join our tour the GRAND DAY TRIP AROUND COPENHAGEN. This tour includes a full visit to the Viking Ship Museum as well as the other major historical sites in the Copenhagen area and it is the only way to see all of them in one day.